Something New and "Perky" in the world of skin care.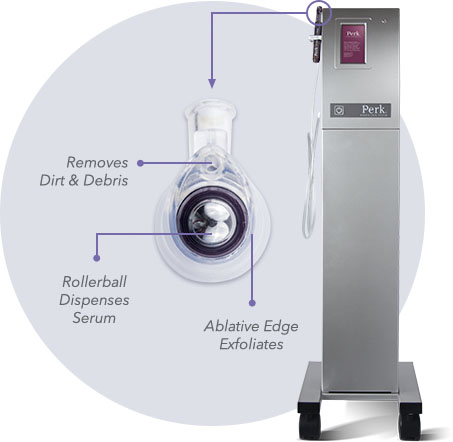 Something brand new and "Perk-a-licious" just hit the aesthetic market. It is called Perk and it is the newest device from Edge Systems, the manufacturer of the multiple award winning HydraFacial MD system. Perk was launched in November 2015 and just had its world debut at the International Spa Association Conference (iSPA) where it was voted one of the top six new products to hit the market.
Perk is the first hybrid skin care system that combines cutting-edge technology with proven effective ingredients to exfoliate, nourish and revive skin in as little as 10 minutes with no downtime and immediate visible results. It is the first treatment of its kind that merges an in-office treatment with take-home products to enhance skin benefits. Clients get immediate results with long lasting benefits that fit perfectly into daily life.
Whether you're in the mood to boost lips, replenish the eye area, or give your face that instant glow, Perk gives you the freedom to mix n' match service options.
Perk can be utilized in a multitude of ways including as an enhancement to a traditional facial, an add on to a HydraFacial MD treatment, or as a stand-alone express service, enabling clients to give their skin a boost wherever and whenever it is needed most.
The Perk face treatment can also be used as a prepping station to other clinical treatments such as dermaplaning, microneedling, Dermapen, microdermabrasion or laser to enhance the clinical benefits of those services.
Another "Perk" is that the eye and lip treatments are the perfect add-ons to the HydraFacial MD treatment because it focuses on the only two things that HydraFacial does not. The HydraFacial does everything, except for safety reasons around the eyes and the lips and so having the ability to add on those two areas is now an added "Perk".
Perk uses a unique hybrid system with patented roller-flex technology to gently remove surface layer dead skin cells and impurities while delivering vital antioxidants. Pores are gently flexed as the roller ball embeds nutrients, ensuring absorption and revealing a fresh new you. Plus the compact serum treatment vials go home with the client so they can continue to utilize the roller-flex technology to keep skin nourished and radiant long after the in-office treatment.
Perk is a well-rounded treatment that allows the client to achieve plump, perfectly primed lips, line-free eyes, and bright, luminous skin, all in a single treatment with the added benefit of a take home product, giving clients the best of both worlds.
Perk uses the finest antioxidants such as Horse Chestnut Seed Extract, Arnica Flower Extract and Ginseng Root Extract.
Perk has bridged the gap between efficiency and affordability to bring clients simple yet effective skincare. Perk is not only effective but it is also budget friendly and affordable. Average market price for treatments are: lips $29, eyes $39 and face $49.
The Perks: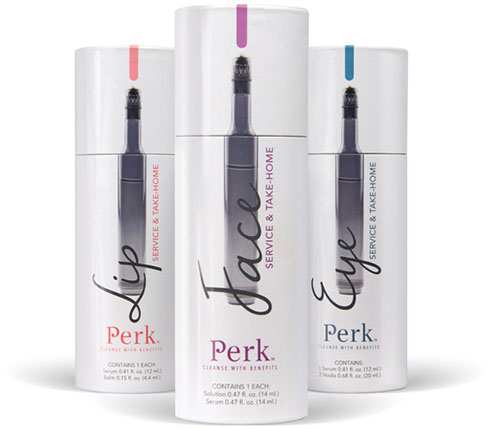 Face Service: $49 Great as a stand-alone or pre-treatment procedure. Exfoliates and nourishes skin with potent antioxidants for a gorgeous glow.
Lip Service: $29 Get perfectly primed and lightly plumped lips. Treatment locks in moisture to reveal a perfect pout. Key ingredients include peppermint oil and peony extract. In addition to the roller ball serum, the lip service also includes an additional take home maintenance lip balm.
Eye Service: $39 Brightens and awakens the delicate eye area with energizing green tea extract and citric acid. Includes take home roller ball serum and an eye mask.